We are so proud to announce that on May 28th from 12 to 9 pm we will have the second version of our collective exhibition The AGAPÈ — Contact as part of CTM Festival 2022, hosted at MONOM studios in Funkhaus Berlin (Nalepastraße 18, 12459 Berlin).
The AGAPÈ — Contact exhibits the produced art pieces created by the participants of the SENSORIALITY workshop, and the talent of our artists at EDGE Art and Neuroscience e.V. and MIND Foundation. This uniquely curated event invites guests into the flowering citizen science community of Berlin aiming for the integration of knowledge and creativity into and beyond our bodies and minds through art and science.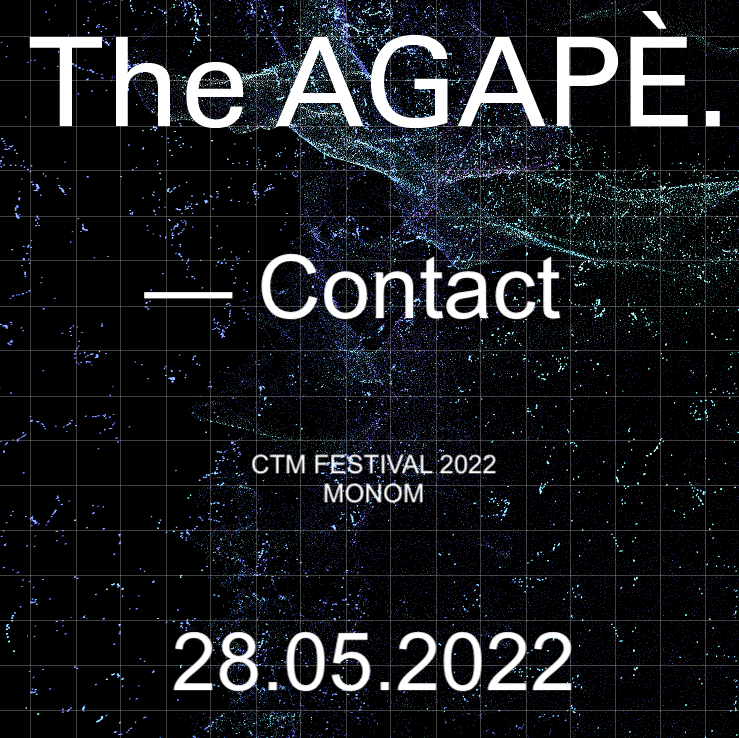 Our Artists
Ashley Middleton, Aga Czeszumska and Bileam Tschepe
@ashley.middleton_
http://www.amiddletonprojects.com/
Bileam Tschepe is a Berlin based artist and educator creating audio-reactive, interactive and organic digital artworks, systems and installations in TouchDesigner and Notch, collaborating with and teaching people worldwide. He has worked with brands, clubs, artists and festivals from the UK, the US, Germany, India, Taiwan, China, Russia, Sweden, Dubai and more. These include: PHNTM, Printworks, Artechouse, Monomango, Hybrid, Chronica Luma, Marlon Hoffstadt, No Bloom Now, Aeroglyph Collective, Lightbox NY, NUR Festival, DAVE Festival, Zuibishe, Dmitry Selipanov, and Microtones
Ashley Middleton is an artist, researcher, and curator; working in a range of media, including photography, sculpture, and installation. Her multidisciplinary projects explore psyche, soma, quantum entanglement, and the production of world-matter through a posthuman feminist phenomenological perspective. Current projects include: "Nanocosmic Investigations," at ESS and Inter Arts Center, Malmo, Sweden; "Intelligence Debiased," at Exposed Arts Projects, London, UK; and OpenBCI, NYC, US. At ESS she researched ways molecular motion, inside cell environments, might be entangled with the earth's magnetic field. Understanding the body's position, and positioning, in space and time – through molecular quantification and quantum speculations – has facilitated her growing interest in the tension between scientific analysis, theoretical practice, and the sensory body.
Aga Czeszumska is a scientist-turned-engineer, interested in sensory extension and cross-modal perception. Drawing on her experience in astronomy and experimental nuclear physics, she builds electronic devices to sonically explore the world.
NEPH
Berlin (DE), 1985 NEPH is the alter ego of Julian Neumann, medical doctor and professor for interventional and cognitive neuromodulation, musician and audiovisual artist. His neuroscientific research techniques combine invasive brain signal recordings directly from the human brain, neuroimaging and brain stimulation. Dopamine is important for neuroplasticity and can shape sensation, memories and movement. In his research, NEPH explores how deep brain stimulation can mimic the effects of dopamine on the brain. Moreover, he explores the utility of machine learning algorithms for brain signal decoding in brain computer interfaces. His artistic career is driven by his passion for the creative process that bridges the gap between research and art. Beyond his love for the acoustic piano, he has released house and techno on international electronic music labels, co-run a label and several nights with close friends between London and Berlin. His audiovisual work combines insight in neuroscience with creative concepts of machine intelligence.
Paula Muhr
@muhrlizza
http://www.paulamuhr.de/
Paula Muhr is a Serbian-born, Berlin-based visual artist and researcher. She studied visual arts with a focus on photography at the Academy of Fine Arts in Leipzig, Germany. In 2021, she completed her PhD at the Institute of Art and Visual History, Humboldt University in Berlin. The focus of her academic research, which is at the intersection of image studies, STS and history of science, is on examining knowledge-producing roles of various types of images in the context of natural sciences. In parallel, through her research-based artistic practice, Muhr examines sociocultural strategies of constructing sexuality, gender, desire and normality. Her work has been shown internationally at the Museum of Contemporary Art in Rijeka (Croatia), Fotogalerie Wien, Kunsthalle Leipzig, GRASSI Museum Leipzig, Fotogalleriet Format Malmö, Museo Municipal de Bellas Artes Tenerife, Centre national de l'audiovisuel Luxembourg, MAMAC Liege (Belgium), Einstein Forum Potsdam, and Shenzhen Fine Art Institute (China).
Miga Mindaugas Gapševičius
(born 1974) lives in Berlin and Vilnius. His work explores the impact of non-human actors on human creativity and the impact of humans on the umwelt. He has completed MA studies at the Vilnius Academy of Arts in 1999 and received a Master of Philosophy degree from the Goldsmiths University of London. He is a creative fellow at the Bauhaus University in Weimar since 2015. Gapševičius was one of the initiators and founders of Institutio Media, the first Lithuanian media art platform (1998). Along with colleagues from the TOP association, he initiated the first TOP community biolaboratory in Berlin (2016). In 2019 he established Alt lab, a laboratory for non-disciplinary research in Vilnius. Gapševičius's works have been shown at the Ars Electronica festival in Linz (2019, 2020, 2021), the Lithuanian National Gallery of Art (2019, 2021), MO Museum in Vilnius (2019), and Piksel festival in Bergen (2018, 2021).
Virgilio Vogels
https://www.virgiliovogels.com/
Berlin based artist, born 1998 in West-Germany's former capital city Bonn. Vogels tries to embed and to process scientific information in his very personal works. Since he studies Psychology at Medical School Berlin, Vogels can also be considered a sci-artist.
Julia Lux
@mojostudios_
https://mojostudio.cargo.site/
Julia is a Berlin based dancer and performer, light and metal sculptor, scientist, art handler, eco warrior, the curator of MOJO STUDIOS as well as the ambassador for the EDGE/MIND foundation ART Section and a passionate jungian.
Grown up in a rural forestal environment she feels a strong connection to Nature and the living matter around her and as well as her body in space.
As a degreed Environmentalist she finds expression of this connection through her engagement in activists and community groups – creating and spreading workshops and knowledge in the citizen science communities.
Her artistic passion lies in exploring the abyss of the 'inner space'. The spectrum and the shape of feelings. Through Dance and Performance, Light and sculptures, she is highly driven and inspired by the world of mythology , Alchemy and symbolism.
Her mostly abstract and psychedelic collages, installations and sculptures are evolving all from dreams and visions – they are dreams. They can be interpreted as a dialogue between her personal dream with the collective. It is the quest for the archetypes inside of us.
Her work tries to achieve not a separation of Matter but a maximum of an etheric, alchemistic mixing of a new whole. Metall as a repeatedly occurring medium in her work symbolizes her seek for transcendence. It is it's unique capacity of reflecting the full light spectrum and
that two pieces really become one that mesmerizes her. These "outer" alchemistic principles can be always transferred to our inner transformation processes. It is Unification. Individuation. There is no light without darkness.
Tatiana Lupashina & Philip DePoala
@_philfree
Tatiana Lupashina is a researcher and maker in the arts and sciences. She received her masters degree in the International Graduate Program of Medical Neurosciences at the Charité Universitätsmedizin in Berlin, and she is currently working on a PhD at Charité where she researches neural activity and animal behavior. Her interest in natural processes is closely related to her infatuation with the artistic world. Microscopic details and layers of logic found through biology, as well as art, influence her own artistic expression and attract her to search for scientific understanding. Her passion for science and art has driven her in co-founding EDGE and directing ongoing EDGE projects. Currently, these influences are also involved in the ongoing artistic processes developing Oculus, an interactive sculpture featuring the neurobiology of the eye.
Philip DePoala Is a visual artist from the Hudson Valley of New York. He has studied at the Woodstock School of Art and Pratt Institute. After receiving a BFA with high honors from Pratt Institute, he worked professionally in the fine arts before accepting a few consecutive Honorarium Grants from Burning Man Arts. He has made sculpture, installations, and painting at Burning Man for 6 years. He currently works out of studios in Manila, California and Saugerties, New York.
Eliana Araque
@emarttss
www.emarttss.com
Born in Tunja (COL), 1990. Berlin based artist graduated in fine arts by the Universitat Politècnica de València (ES, 2021). She began her artistic education at the Aki Artez in Enschede, (NL, 2017).
Not interested in committing with a specific technique or plastic language, the interdisciplinary experimentation and research is what guides her creative process. Among a broad set of topics, she acknowledges her responsibility as an artist but foremost, as human being, by reflecting on the current historical context, aiming to create awareness through her work and to contribute with human culture.
The environmental liability ought to be addressed intrinsically in her creative process, which she links to philosophical subjects such as human nature, identity, dualism, and feminism.
Some of her pieces have been exhibited collectively in Literatura a trazos at Ubik Café and La Batisfera with the paintings titled Homenaje a Gabo (Valencia ES, 2019), Synchresis Program 47 with the audiovisual piece Eupatheia Sunyata (San Sebastián ES, 2021), and individually Mortuos Pulchritudo digital and analogic photography at Softart Café and La Serpiente Emplumada Mezcalería (Valencia ES, 2019).
She achieved cum laude with her bachelor thesis titled Metamorph… The creative process as a transformation mechanism. (2021), project still ongoing.
She is currently cooperating with the non-profit association EDGE Neuroscience & Art e.V. in Berlin planning and hosting the series of workshops Sensoriality: An immersive Approach to Art and Neuroscience through our Senses (2022).
Hannah Becher
@becher.hannah
http://www.hannahbecher.de
Born 1963 in Marburg lives and works in Berlin since 1983
She has been working in different theaters, behind, above and below the stage.
1991 -1995 education in painting and set design with Pauline Disonn and Andrej Woron.
1998-2003 she designs costumes and sets for various opera-productions as "Turandot",
"Madama Butterfly" and "La Traviata" in Penang and Kuala Lumpur, Malaysia.
She exhibits in numerous solo and group exhibitions and is a member of the
Artist group RUW! which releases an artist magazine every year.
Kasey Devitt
@kasey.devitt.art
https://kaseydevittart.wixsite.com/mysite
My artistic process consists in a channeling; a flow process extending from beyond the self, through the self, and past the self, reaching back into its origin. It is a cycle whereby the horizons of self are extended beyond the conventional boundaries of body and mind, subject and object. A non-dual awareness allows the transposition of worldly elements onto my identity, and of my identity onto the world. Body parts are replaced by thoughts, and thoughts are consolidated into visible textures.
Luan Van Plesten
@machine_whisperer
https://luanvanpletsen.com/
Machine_Whisperer is an engineer and artist exploring the relationship between mechanism and organism.
Where in the chain of cause and effect is the jewel of consciousness formed? Wherefore I
Am dissects the experience of human consciousness, asking where exactly the distinction is between the "mundane" and the miraculous. Anatomical drawings, collaged on glass, are annotated in UV, juxtaposing base truth with our scientific understanding of the world.
Matteo Andreani
@butch_andre
Matteo is a cell biologist by profession and a photographer by passion. This does not mean that he has no passion for science, rather he has not made photography his profession (yet). Nevertheless, in both activities, he practices the same patience and endeavor to reach the asymptotic goal of Perfection. He takes photographs for his own pleasure and for his own desire to portray the Beauty surrounding us; the Beauty in the details that get obscured by our frenetic routines; the Beauty that is blurred by comfortable and habitual points of view; the Beauty that is in each of us and unites us, but too often is overthrown by egoism, discrimination, and violence.
Roxanna Ardeleanu
@roxanaelenaardeleanu
Roxana Ardeleanu is a berlin based romanian artist working at the intersection between visual mediums, sound and performativity,with a focus on painting. Her work is defined by a conceptual and formal fluidity, as she explores various subjects such as synaesthesia, embodiment, oniric experiences and posthumanistic attitudes oftentimes from a self-referential position, using painting and installations as her main medium. Her recent paintings explore speculations of possible beings and hybrid embodiments, as well as self-visualisation through corporality, borrowing from somatic practices, magical rituals, dark ecology&quantum mechanics. With a MA in visual arts and spatial strategies, she studied at Bucharest University of Arts, Ecole Superieure des Beaux Arts de Grenoble and Weisenssee Kunsthochschule Berlin. She currently lives and works between Berlin and Bucharest.
Veronica Delgado
@peromerovero
Verónica is a Spanish scientist, data analyst and poet with a constant thirst for knowledge. She stormed into Berlin in 2015 to do her Ph.D. in molecular biology and immunology in order to feed her passion for research and science. Rapidly, she realized that understanding how the human body works was tightly connected to art. Writing poetry became a way for her to express her feelings and life experiences in just a few words. What started as a need has become a part of her identity. She has attended non-fiction and poetry courses at The Reader Berlin and Berlin Writer's Workshop to further professionalize her writing. With over 100 pieces in English and Spanish, she is in the process of curating her work and putting together a personal brand/product that will be released into the public under the name of veroverse. Moreover, she started to host poetry writing workshops to share her passion and to inspire others to create.
Jessica Gaynor
@jessicagaynordance
http://www.jessicagaynordance.com/
Holds an MFA in Dance Performance and Choreography from California Institute of the Arts, and a BA from Brown University, where upon graduation she received the Weston Award for excellence in dance. She has been a guest choreographer at Brown University, Grand Canyon University, Amalgamate Dance Company's Guest Artist Showcase, the Fieldston School, Young Dancemakers Company and the Brearley School, where she was on faculty from 2007-2014. She has taught workshops at Tamzfabrik, Peridance Capezio Center, Gibney Dance Center, PAUL Studios Berlin and currently teaches repertory at the Berlin Dance Institute. Gaynor is Artistic Director of Young Dancemakers Company, serves on Triskelion Arts' Board of Directors and curates a monthly movement and sound series at Petersburg Art Space Berlin.
Adnan Ghori
@adnanghori.neuroscience.art
Adnan Ghori is a senior Postdoctoral fellow at the Neurosurgery department Charité Universitätsmedizin in Berlin, where he has been since 2009. His research focus lies in understanding neurovascular repair processes after ischemic stroke. He is passionate about understanding the brain function in health and disease. Bachelors and Masters in Cognitive Science gave him the opportunity to explore neuroscience with a multi-faceted lens. He is a self-taught abstract artist who is driven by the complexity and beauty of the brain. His artistic vision is to create vivid and abstract images of various neuroscientific concepts. His artwork aims to start a dialogue and serve as a vehicle of knowledge and brain awareness. Recently, he became a member of EDGE Neuroscience and Art to connects and collaborate with art and science community.
InnitiativeLab
http://innativelab.com/
InnativeLab is a Berliner Art-Tech laboratory that focuses on the connection between dance and brain activity integrating the use of Brain Computer Interfaces (BCIs) and reactive audiovisuals. Their piece Deep Waves was the first neuroscience-dance-tech performance in Germany introducing live visuals from real-time transmission of one dancer's brain waves, while a motion-tracking device was used to sonificate the movements of another dancer. Currently, InnativeLab develops workshops for corporations, institutions and events setting a team-BCI in the search for collective brain synchronisations.
Alessandro Manolo
www.ioioioio.org
Alessandro Manolo is a neuroscientist in training, music producer and visual artist. His works include contributions to multiple albums for himself and other artists, video installations and prints. His artistic focus lies on how the mechanics of the digital realm relate to the underlying dynamics in the brain.
Early on Alessandro started making music as a drummer and began writing songs and making recordings soon after. This behavior has been a constant part of his life for about 15 years to date. With the music came music videos, live shows, merchandise design and other related artwork. In connection with his studies, he has ventured into more formless media like video installations Audio-Video-Installations (RECENTRE at INSIGHT 2021 in collaboration Dr. Sam Dunscombe). Art installations allow him to show more fragmented yet detailed parts of his works in isolation.
Most recently Alessandro finished his studies of Cognitive Science at the University of Osnabrück with focus on Neuroscience. His thesis discusses a motor-control-experiment conducted during his time at the Brain Networks Dynamics Unit at the University of Oxford.
His academic and artistic sails are set towards Berlin, where he hopes to release and perform another album by the end of the year. All of his work as well as that of close collaborators can be found via www.ioioioio.org.

[more tba]