How do you navigate your body in space? Explore your proprioceptive senses, led by expert instructors in neuroscience and art!
Date: Friday, November 17th 2023
Time: 18:30-21:30
Location: Kunsthalle, Entrance B, 2nd Floor, Eye Square, Berlin
Maximum Number of Participants: 25
Description:
Have you ever thought about the way you instinctively maintain your balance, reach for objects in the dark, or dance with grace? It's all thanks to proprioception – the hidden hero of our sensory experience. In this session, we will delve into the magic of proprioception!
Proprioception is the key to understanding the intricate connection between your mind and body. In this session we will explore it's effects on physical awareness, balance, and coordination. But it isn't just about physical sensations; it's also closely tied to cognitive function. Our session will explore how enhancing proprioception can lead to improved focus, problem-solving skills, and mental agility.
Sensoriality is all about engaging your senses. In addition to in-depth discussions, we'll provide hands-on activities and experiments that allow you to fully immerse yourself in the world of proprioception. Get ready to see, touch, and feel this phenomenon in a whole new light.
Save the Date: The next Sensoriality session on proprioception is scheduled for the 17th of November 2023. Don't miss this chance to explore the incredible world within you. Mark your calendars and get ready for an eye-opening experience!
With my emphasis on the experience of drawing, I am keen to point out that it is proprioceptive and not just cognitive – that it is part of our body movements

writes Siri Hustvedt (2015, p. 365).
No previous experience required!
---
Agenda
18:30 Welcome Participants and Housekeeping
18:45 Introduction + Speed meeting to EDGE Neuroscience & Art e.V., our hosts Eye Square, the workshop series, session and esteemed guests. Introduction round for attendees.
19:00 Activity 1. Let me get to know you. Proprioceptive exploration in pairs
19: 20 Neuroscientific talk + Q&A
20:00
—Break—
20:10 Artist Talk + Practice
20:20 Artistic References
 20:45 – end Activity 3. Embodied practice + Collective Artistic creation and Networking
---
Guests
Neuroscience: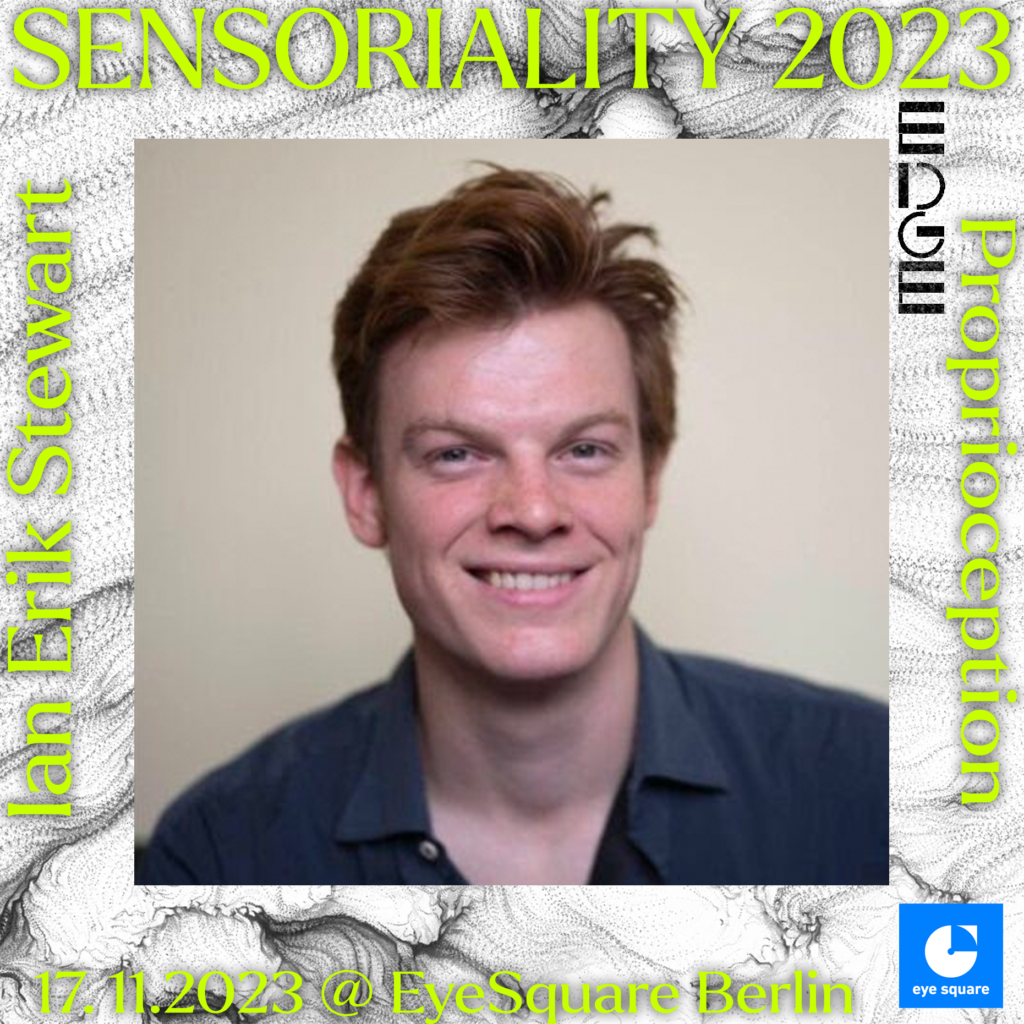 Ian Erik Stewart
Ian Erik Stewart is a PhD Candidate at the MDC Berlin conducting a research project in the neurobiology of proprioception. During his academic studies so far in Sydney, London, and Berlin, he has produced installation, audio, and conceptual art works with which he investigates hidden aspects of human behaviour and the relationships between culture and science. To humanise and present neuroscience for the public, he co-founded EDGE in 2018, and continues to act as executive member at the interface between art and neuroscience. Recently, he has collaborated in various artistic projects, providing technical and theoretical knowledge for the development of new ideas.
Art:
Mo.Ré Collective
We will connect to the understanding that the perceptual system serves as a gateway to our engagement with the external world and broader our own investigation by concentrating in communicating with our body. In the workshop we will introduce ourselves into a Dance, a space, where meaning is being created through many factors. We will concentrate on the sensorial experience of movement and the social or cultural meaning that the inner imaging of our bodies is creating as we perceive our body. In this space of physical investigation, we will try to use a visualization and an imagining that emerges and is in dialog not only with our regular visual sensors.
By regular one can think of how we connect to the actions of seeing as an input of visual information and then "digesting" the information as an internal image creating, or thinking, or feeling … which happens in our brains and is experienced in our mind (a cognitive space of reflection). We will rather learn to use our entire body both as an "eye" that sends us information, as a mind, and as a brain that digests, self-communicates, feels, answers, and creates. In this form the body serves a self-communicating being where diverse processes of meaning creating, feeling, restriction and permission occur through self-governed and externally influenced psychology. We will look for the sensorial experiences that enhance a feeling of permission or prohibition to help us enhance and discover the inner spaces of control we might find in our sensorial body. Therefore we will create Dance as a space where Sensorial, physical, emotional, and cognitive activities interact. -Mo.Ré